61572 is a real steam engine running at the North Norfolk Railway. It is a Holden B12. It is also the basis of the character "Stephen" in a popular YouTube webseries, the British Railway Series. Thomas once visited the North Norfolk Railway and became good friends with 61572 after they found out that both of them were the last of their engine type.
Page by
TenCents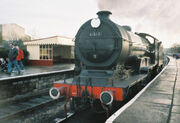 Ad blocker interference detected!
Wikia is a free-to-use site that makes money from advertising. We have a modified experience for viewers using ad blockers

Wikia is not accessible if you've made further modifications. Remove the custom ad blocker rule(s) and the page will load as expected.