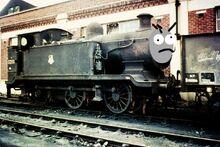 Gregory was one of two engines on trail from the other railway. Unlike kind-hearted Quinten, Gregory was rude and arrogant, but Molly was blissfully unaware of this. In the Sodor war, Gregory was taken to the scrap yard by Thomas ll to protect Molly, but wasn't successful. It Thomas ll smelted him. He is based on LB&SCR E2. He was painted orange with yellow stripes and black running plates. His enemy was Thomas. He worked on the other railway.
Ad blocker interference detected!
Wikia is a free-to-use site that makes money from advertising. We have a modified experience for viewers using ad blockers

Wikia is not accessible if you've made further modifications. Remove the custom ad blocker rule(s) and the page will load as expected.