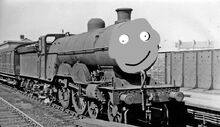 Sir Topham Hat had ment to buy Harrison ,an Ivatt C1 4-4-2 Atlantic,but instead receved Henry who was an experamental engine later turned into a "Black Five" class engine. Harrison is a grumpy steam engine and doesn't like other steam engines he is good friends with all of the diesels and even works at The Dieselworks sometimes to Knapford to see Sir Topham Hat. Many, many years later he was found. Henry was jealous of Harrison becase it was supose to be Harrison but the mistake brought Herny instead which bothers Henry a lot. he then scrapped Rosie in the last episode Rosie gets scrapped l
Ad blocker interference detected!
Wikia is a free-to-use site that makes money from advertising. We have a modified experience for viewers using ad blockers

Wikia is not accessible if you've made further modifications. Remove the custom ad blocker rule(s) and the page will load as expected.