Quinten
is a kind-hearted and friendly Q1 engine. Quinten is one of Neville's surviving brother, and the two have a good relationship with each other. Quinten lives at the National Railway Museum. Quinten loves telling jokes. He is no. C1, formerly 33001. He is based on SR Class Q1. His friends are Molly, Thomas and Eagle, and his enemies are Gregory and Diesel 11.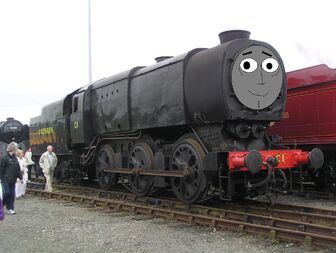 Ad blocker interference detected!
Wikia is a free-to-use site that makes money from advertising. We have a modified experience for viewers using ad blockers

Wikia is not accessible if you've made further modifications. Remove the custom ad blocker rule(s) and the page will load as expected.