Tommy is a friendly tram engine who is friends with Victor who works at the Sodor engineworks as the manager of him. His sideplates and cowchatchers are red, and his bufferbeam is yellow, also is kind but can get into accidents.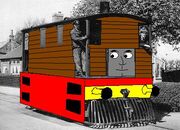 Voice Actors
Edit
He is the only one of Toby's brothers that doesn't have a red buffer beam.
Ad blocker interference detected!
Wikia is a free-to-use site that makes money from advertising. We have a modified experience for viewers using ad blockers

Wikia is not accessible if you've made further modifications. Remove the custom ad blocker rule(s) and the page will load as expected.