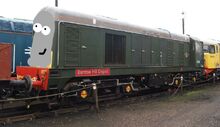 ZoZo is a cheerful diesel, and is the second most sensible diesel on Sodor (first sensible is BoCo). His closest friends are BoCo and Molly, and has a good sense of humor. When he arrived, James knew you should never judge someone before you know them. He is based on an BR Class 20. He is painted BR green. His friends are BoCo, Thomas and Molly, and his enemies are Diesel and Diesel 10. He works on Neville's branch line.
Ad blocker interference detected!
Wikia is a free-to-use site that makes money from advertising. We have a modified experience for viewers using ad blockers

Wikia is not accessible if you've made further modifications. Remove the custom ad blocker rule(s) and the page will load as expected.